This past Sunday marked my first Mother's Day...what an emotional, wonderful holiday! We had a low-key day, meeting my mom and Terry for breakfast, doing a little shopping, and then vegging at home, napping, and doing a million loads of laundry. Ryan got me a new digital camera (mine was 5 years old and only 1.3 megapixels...yikes! Now I'm hooked up with 5.1), and my mom and Terry got me a gorgeous necklace with a little mother-child charm.
I don't have too many pictures of me with Ryan, since I'm usually the one behind the lens, but I made a point of having Tony take some of us on Mother's Day. It's hard to catch the little one smiling, especially with the lag on point-and-shoot digitals. But he's about to crack one in this picture...honest!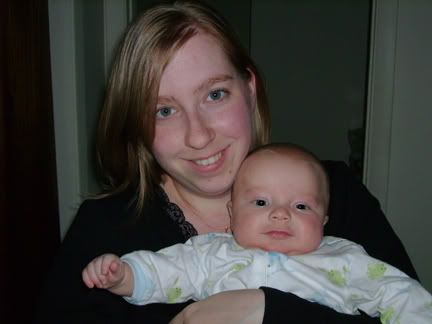 I hope all you moms out there had a wonderful day, too!