I'm so excited with how the mobile turned out! On a business trip to Toronto a few years ago, I was at a bookstore and found Pierre the Pig by the Manhattan Toy Company. He was very large...I'd say about 18 inches tall. Later, I discovered that they make smaller versions of the same animal, plus other farm friends! I have yet to find them sold in Indiana, but managed to pick up 4 of his friends on various other trips (Seattle and Boston, I believe). Target had their mobiles clearanced, so I just bought the cheapest one, cut off the animals that came on it, and sewed on mine. Love it!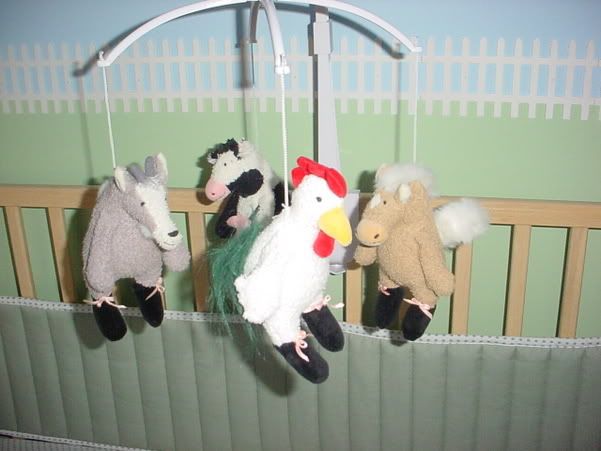 I'm also pretty excited with how well the dresser turned out. Tony worked hard to make it look like a nice piece of furniture (it's something we picked up at Value City one day for $30), and I'm really pleased. I've already got the clothes moved over to it, so the other dresser can truly act as a changing table. Now we just need a baby! ;-)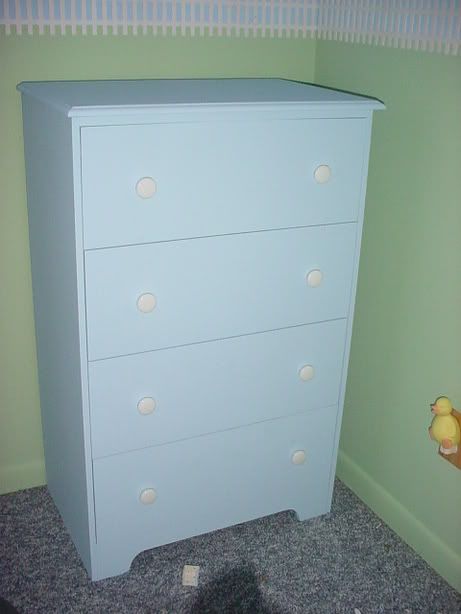 Congratulations to my cousin Carrie and her family, for the new addition they added on Saturday! Can't wait to meet the little guy!