Happy New Year everyone!

We had a pretty low-key night...went to dinner just the two of us around 6. But we had just eaten lunch at 2, so we weren't even very hungry yet! Decided to go to Outback since we had giftcards to use up. We had a fabulous waitress and the food was pretty good, even though we brought most of it home. The kitties got their first taste of real crab legs...Satchmo enjoyed it a little more than Crosby, although he ate it all so fast I'm not sure Crosby even had a chance to tell what it was! I did fall asleep on the couch after we got home, but woke up around 11:30. Went to bed and watched "Law & Order CI", and Tony came in at midnight for our annual New Year's kiss.

What are your New Year's resolutions? I tend not to make any because I either forget what they are or don't follow through with them anyway. But here we go....


Be a great first-time mom.

Put family life ahead of work life.

Lose all pregnancy weight, plus the weight I needed to lose before I got pregnant.

Do a better job at keeping up with my scrapbooking, or at least get pictures put into albums in a timely manner.

Live within a budget.
We're making pretty good progress on the nursery. Here is a picture of one of the walls.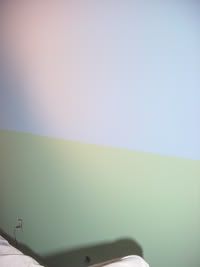 Even though we spent the extra money on nice painter's tape, the green still peeled off when we removed it. Grr. One more coat on the ceiling and some touch up on the peeled-off green and we're all set! Then we've still got to make the fence pieces and paint those, plus buy a chair rail. But all of that can wait. I'm so excited to start arranging everything!
Here is a sample of the bedding we ordered...should be here any day now! We might end up exchanging it for either the blue or the regular green, depending on how this sage color looks in real life against the paint colors we chose. We'll see!